North American Life
History
Founded in 1886, North American has stood strong to help protect those who count on us for financial security. Through two world wars, the Great Depression, and multiple recessions, North American's private ownership and focus on the long term has instilled trust and confidence in those that depend on us.
1982 – North American introduced its first universal life product
2011 – North American celebrated its 125th anniversary
Custom Guarantee Universal Life Insurance
For your clients that are seeking a low-cost guaranteed death benefit. This product is competitively prices and also offers several riders as well as the Accelerated Death Benefit Endorsement.
Highlights:
Guaranteed Death Benefit Protection up to age 120
Guaranteed Exchange Privilege
Low Minimum Face amounts of:$50,000 for issue ages 15 days to 59yrs$25,000 for issue ages 60 to 85yrs
Available on North American e-app, SimpleSubmit
ADDvantage Term Life Insurance
Highlights:
Competitive Low-cost rates
Fully convertible to any currently available permanent life insurance product
Low minimum face amount of $100,000
10, 15, 20 and 30-year level premium guarantee periods
Renewable to age 95
Available on North American e-app, SimpleSubmit
AGENT PORTAL: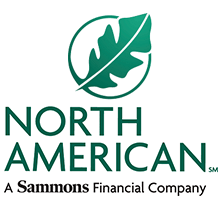 ADDvantage Term
Custom Guarantee UL
Underwriting: